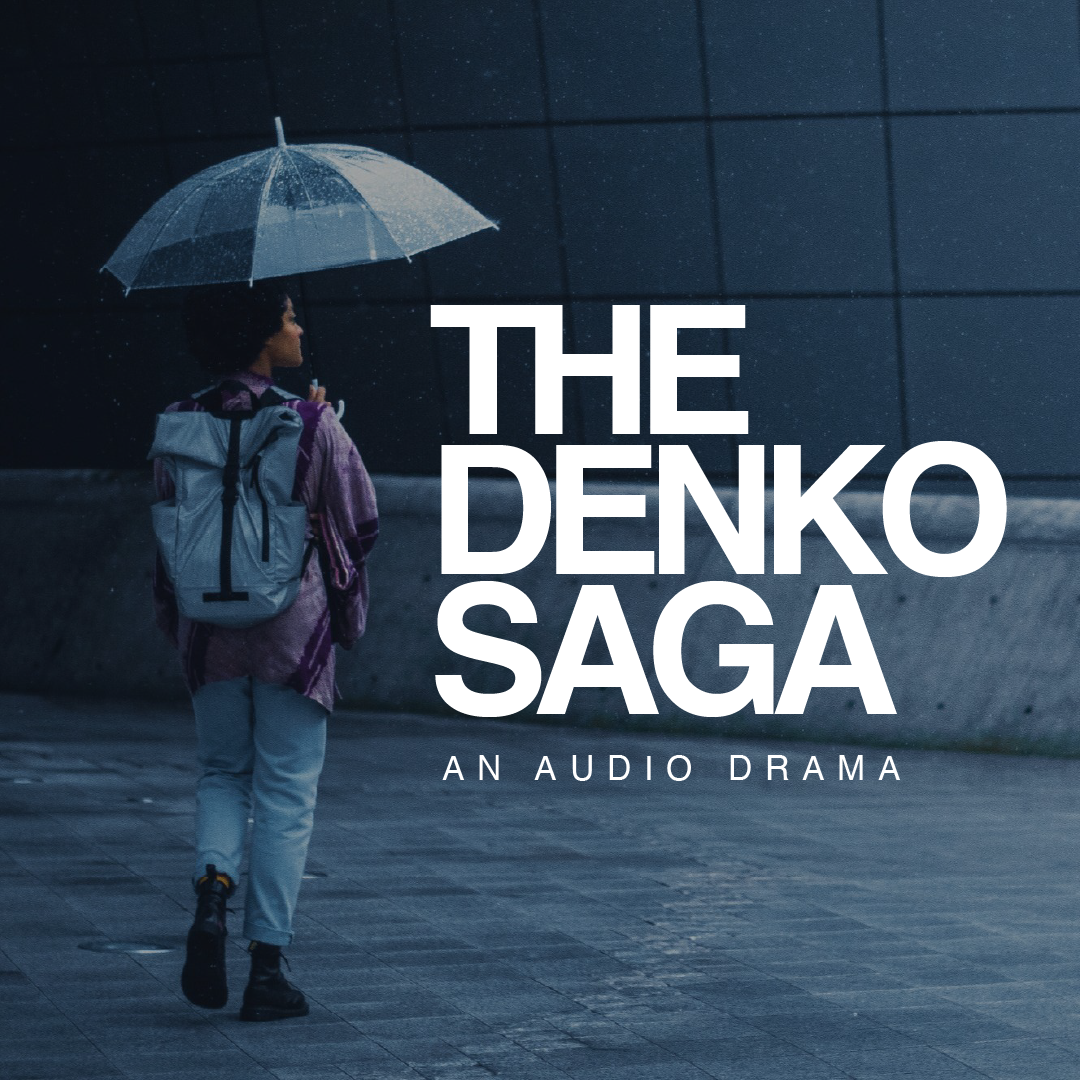 The Denko Saga is a Podcast audio drama inspired by a real forum thread from the internet! Listen to the drama written and directed by fans of this crazy story. Carina Johansson and Robert Lange.
---
Summary:
"HELP – THE GIRL I LIKE WON'T RESPOND TO MY EMAILS! (´‧ω‧`)"
Masami Ito turns to a popular internet community for love advice. The comfort of being hidden behind his computer gives Masami the confidence to share his true feelings daily, towards a girl he refers to as Denko.​
Despite all the warnings from his internet followers, Masami's love grows into the alarming obsession of a stalker. Based on a supposedly true story. From the internet… ​ (´‧ω‧`)
---
Where can I listen to it? Here! (´‧ω‧`)

Listen on Spotify:
The Denko Sagas Backstory (´‧ω‧`)
Back in 2011 in Japan, an unknown user posts a thread online titled:"HELP – THE GIRL I LIKE WON'T RESPOND TO MY EMAILS! (´‧ω‧`)"
This was the beginning of what was going to be known virally as "The Denko Saga".
It was translated and got posted on 2chan with several new threads, each one sounding more concerning…Two college students in Sweden got fascinated with this story and started to come up with their own versions of what might have actually happened. They eventually decided to adapt it into an audio drama as their hobby project.
Today – after three years of writing, casting, directing and editing it is finally ready for the public ear. We hope you enjoy listening to our version of The Denko Saga!
A huge thank you to all our amazing cast and crew for their performance, dedication, patience, and hard work. We could not have done this without you. Thank you for bringing our characters to life! ❤️
‌Want to read the original Denko Saga?
Of course, you do! The podcast brings up almost all the original forum comments, but it is still our own fictional story. By clicking on the below button, you can read the original and compare. We would love to know what you think of our fictional version of the story. So feel free to reach out to us either through our Instagram or email: banbancostudios@gmail.com

Click here to read the original forum thread (translated from Japanese to English)

My thoughts – The Creation of the Denko Saga

The creation is complete!!! It only took us like what…3 years!? And it's finally published! Go go The Denko Saga!!!

As a creative who loves coming up with ideas and starting up new projects, but never has the ability to finish what I start… I feel SO proud of myself for completing it! Not only was it fun, we both learned a lot on the way, our technical skills developed, and just the whole journey itself was an unforgettable experience. We could not have done it all on our own. Big thank you to the people who helped us, supported us and volunteered to do this with us!
This was a zero-dollar budget hobby project, everyone did this for the fun of it. We were so lucky to find and handpicked such great voice actors! Some of them are professionals and some are just talented friends of ours! You have to check out their work below!
The Cast and Crew
Meet the people behind The Podcast / Audio drama The Denko Saga!
Episode list – The Denko Saga Podcast Drama Season 1
| | |
| --- | --- |
| Episode 1 | Prologue |
| Episode 2 | What started as an innocent romance… |
| Episode 3 | OP: The Girl I Like Won't Respond to My Emails |
| Episode 4 | Episode 4 – The Chat |
| Episode 5 | Remembering that time… at the Izakaya |
| Episode 6 | 600 E-mails??? |
| Episode 7 | Disturbing Phone Call. |
| Episode 8 | Masamis obsession |
| Episode 9 | Am I scary? |
| Episode 10 | I love her – The Confession Email |
| Episode 11 | (Coming soon) You are not dating – This is getting out of hand! |
| Episode 12 | (Coming soon) The last update – Denkos house |
The Album Art
Here are the album designs for the audio dramas different episode releases: