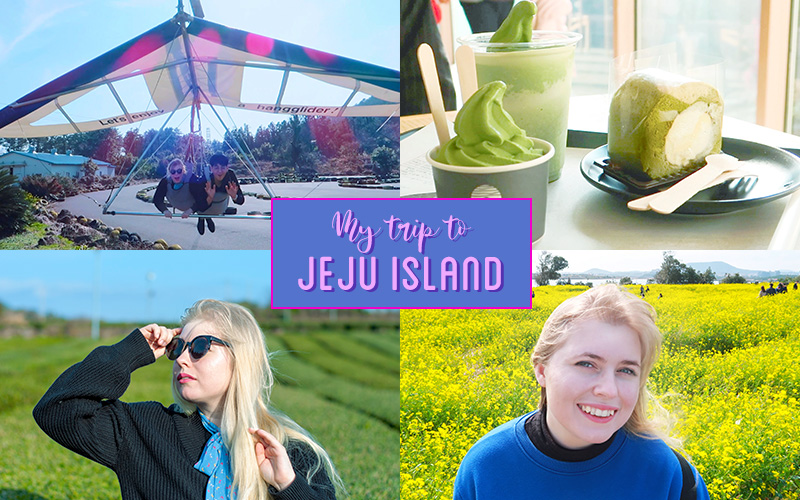 Jeju Island (Jejudo), AKA Koreas Hawaii! A very popular tourist destination in the summer and even winter. But how is it in between the peak seasons? We took a trip to Jeju Island in February and surprisingly loved it! Here is why.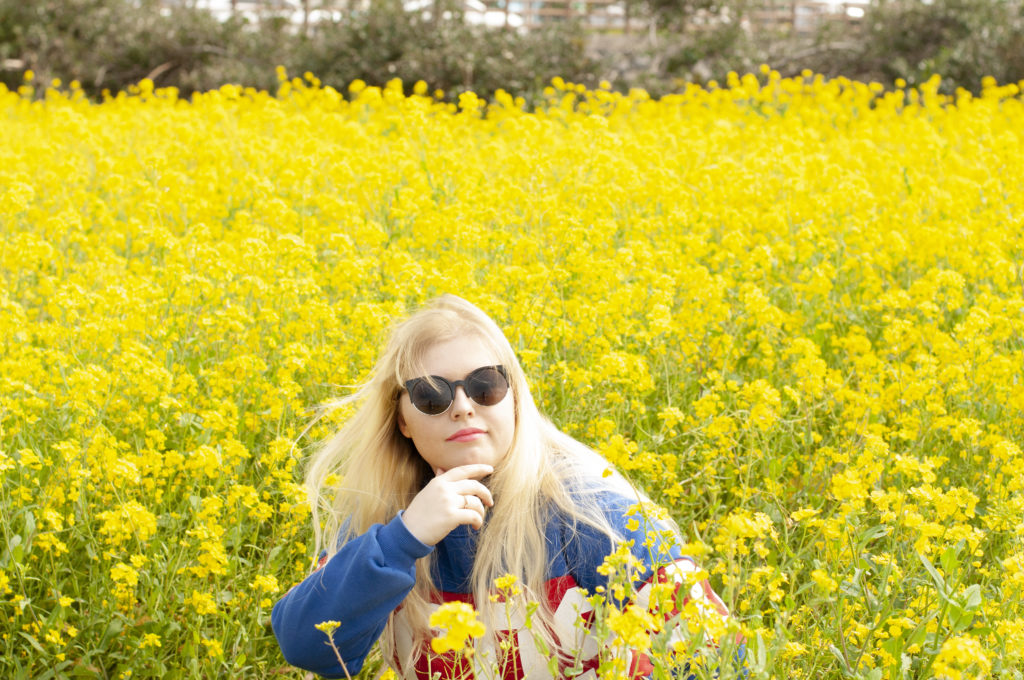 Photo Shooting in the Canola Fields
If you decide to visit Jeju Island in February, you have to stop by and take photos at a canola field! The canola flower fields are scattered around the whole island and we drove by many. Each had a cute different photo shooting theme! We chose a random one and paid 2000won (2$) to go in and shoot for as long as we wanted. We were lucky with the weather too, it was about 10 degrees and sunny. Two days later we returned to Seoul and guess what, it was snowing there!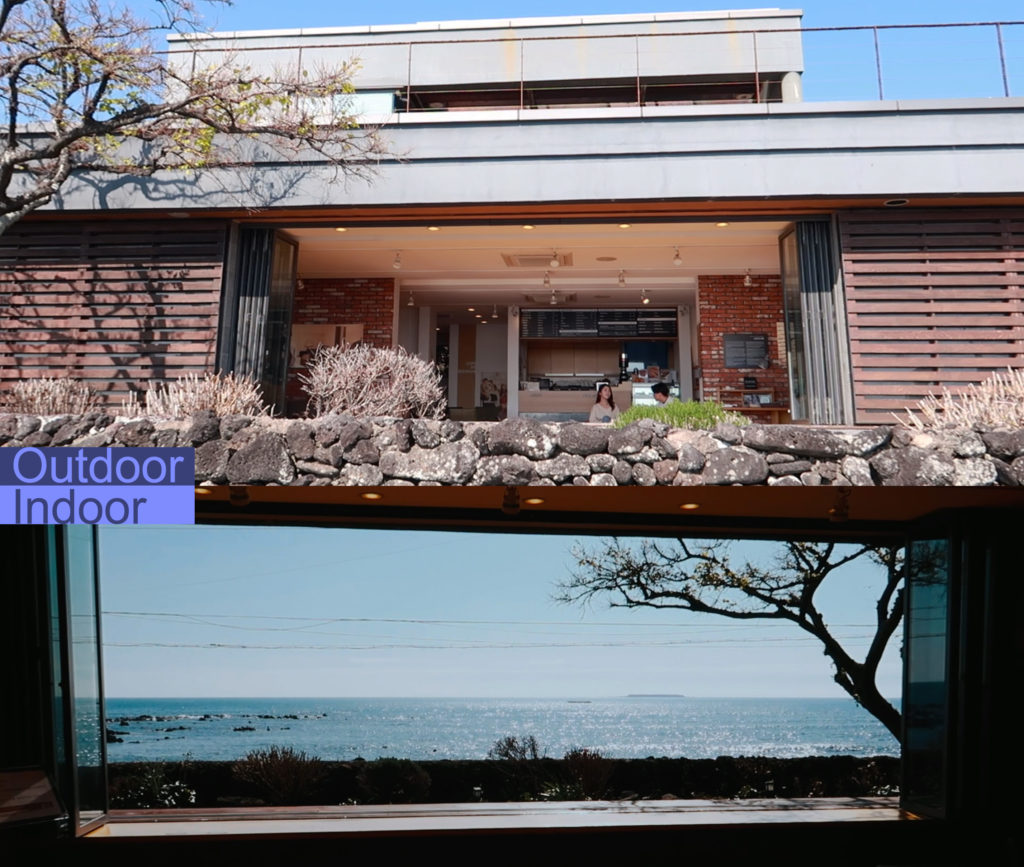 Cafe with the BEST Ocean View
My husband is a fan of the Korean movie Architecture 101. Seoyeun's House from the movie was actually transformed into a cafe and is now a tourist spot for the hardcore fans. But you don't need to be a fan of the movie to enjoy this cafe, it has a spectacular ocean view and a calm atmosphere. We heard piano music and ocean waves while walking in.

We visited Seoyeun's House after having an early lunch and to our surprise it was empty! Normally it's really crowded with customers but seeing that it's in February and we came a bit early we got lucky once more! I strongly recommend resting at this cafe and taking some nice photos for your Instagram.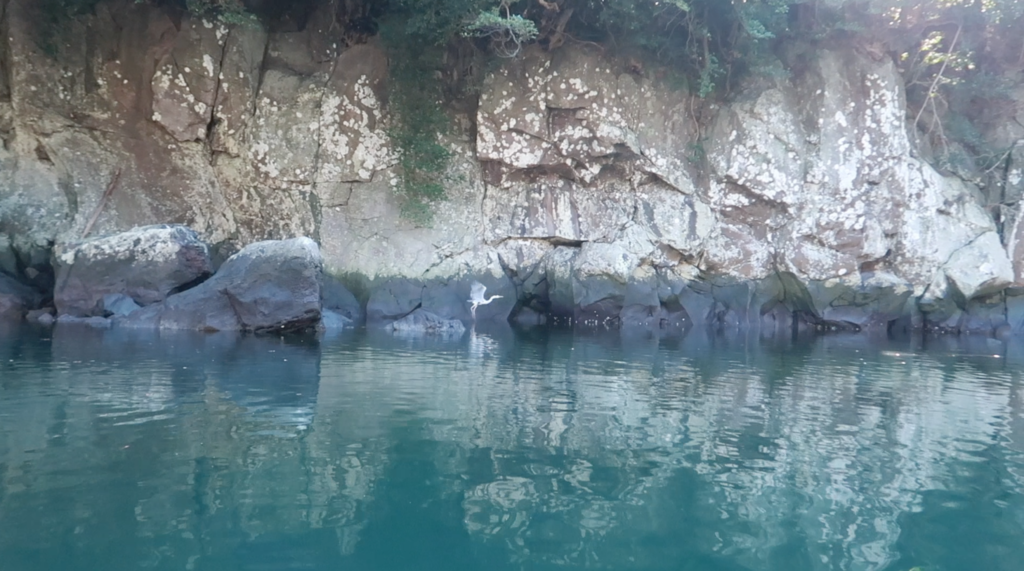 Kayaking at Soesokkak Estuary
One of the biggest perks of visiting Jeju Island in February is that there are hardly any tourists! That means no waiting time to get on a kayak AND we could appreciate nature without too many people and chatter. This was a relaxing and romantic activity for us!

I mostly filmed and enjoyed talking to my husband so I have no great photos of this place (just screenshots), so please make sure to watch the vlog here or at the bottom of this blog post.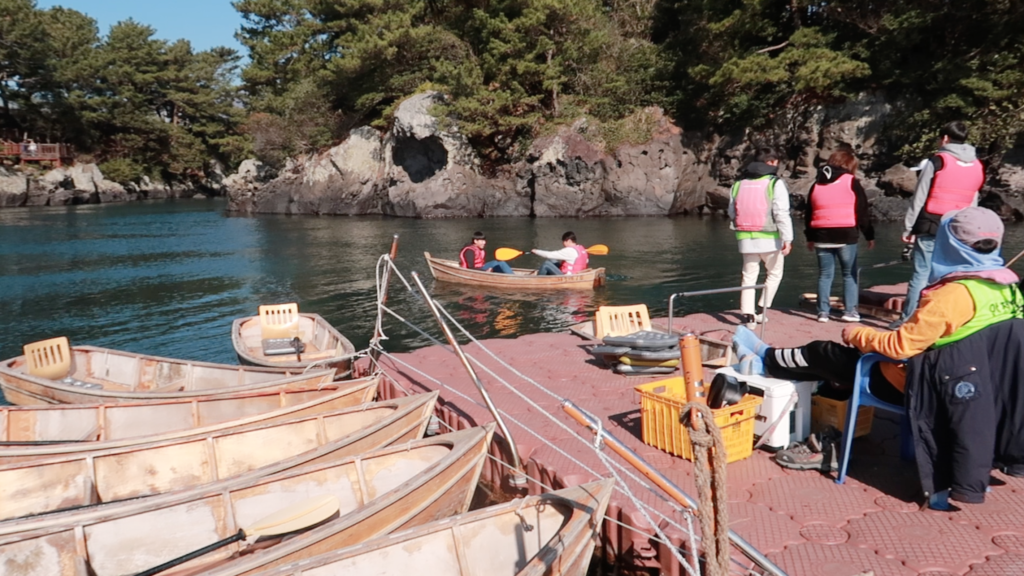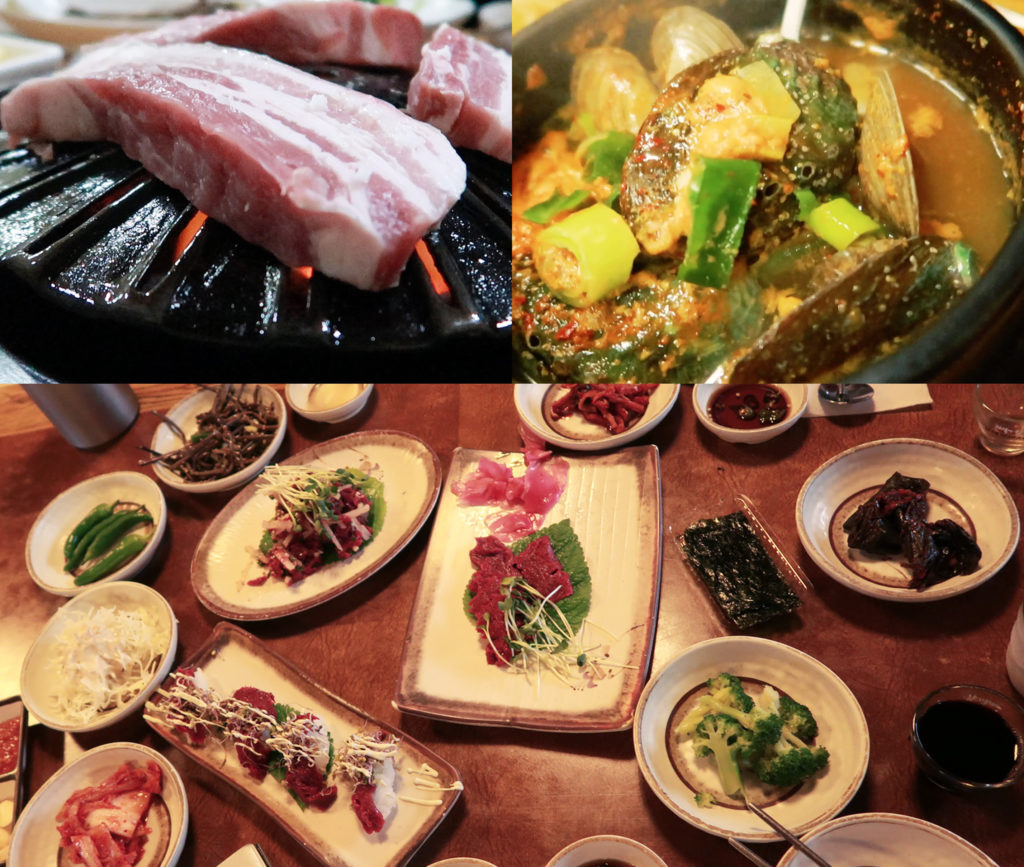 Food – Seafood and Horse Meat?!
Jeju Island is famous for its seafood and black pig bbq, but did you know that they have horse meat restaurants? If you are looking for something unique to do in Jeju island you got to try it out! It was a bit expensive for a set menu but they gave us a lot of different horse meat dishes.
For starters, they served us raw horse meat (it reminded me of sushi) it wasn't a hit in my book but my Korean husband absolutely loved it. Secondly, we got served cooked dishes like horse "burger", ribs and other soups. Finally, they saved the best for last, horse BBQ! We got to grill seasoned meat and marinated meat. It was quite delicious. I personally wouldn't buy it again, because I prefer pork and chicken but I think a lot of people would love this and it's worth experiencing this meal at least once if you are a meat-eater. Watch our vlog down below to see more!
When it comes to seafood there is so much to choose from! Sashimi, spicy fish stews, cold icy noodles with fresh raw fish, clam stews and bbq. Even if you are not a seafood fan just like me, you will surely like something, I guarantee! Give it a try!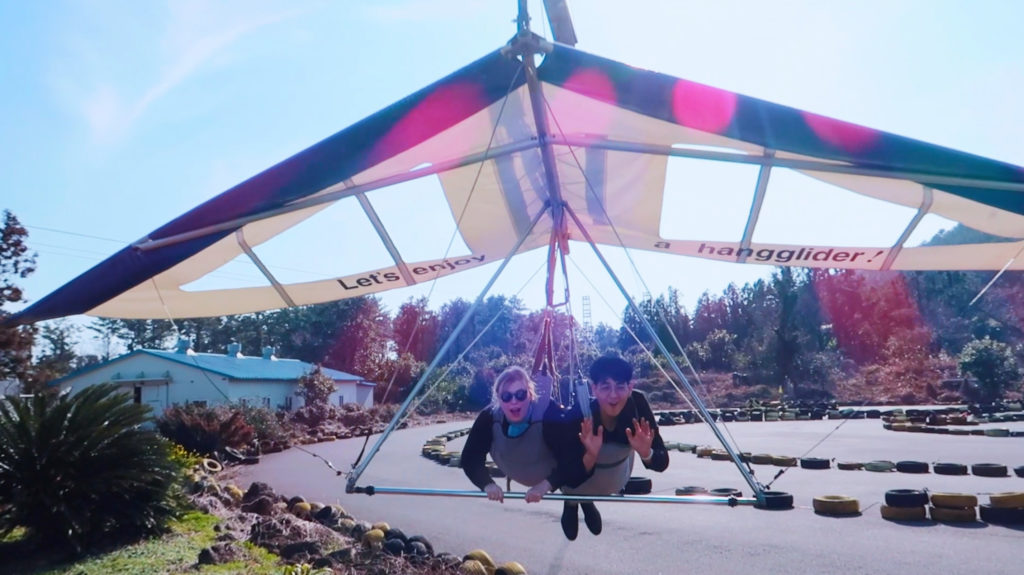 Safe Hang gliding experience!
Are you scared of heights and risks but want to slowly overcome your fears? Feeling a bit more adventures than usual? Then try this safe hang gliding activity in Jeju Island! I really enjoyed this!
We weren't really gliding in the air for real. The glider was attached to a secure line. We soared straight back upwards and down again. Watch my vlog to see how it looked like. It wasn't really fast and we got to do it twice so it's just a 5-minute activity, I think it's worth it if you want to challenge yourself. I wouldn't recommend it to people who already done something similar though.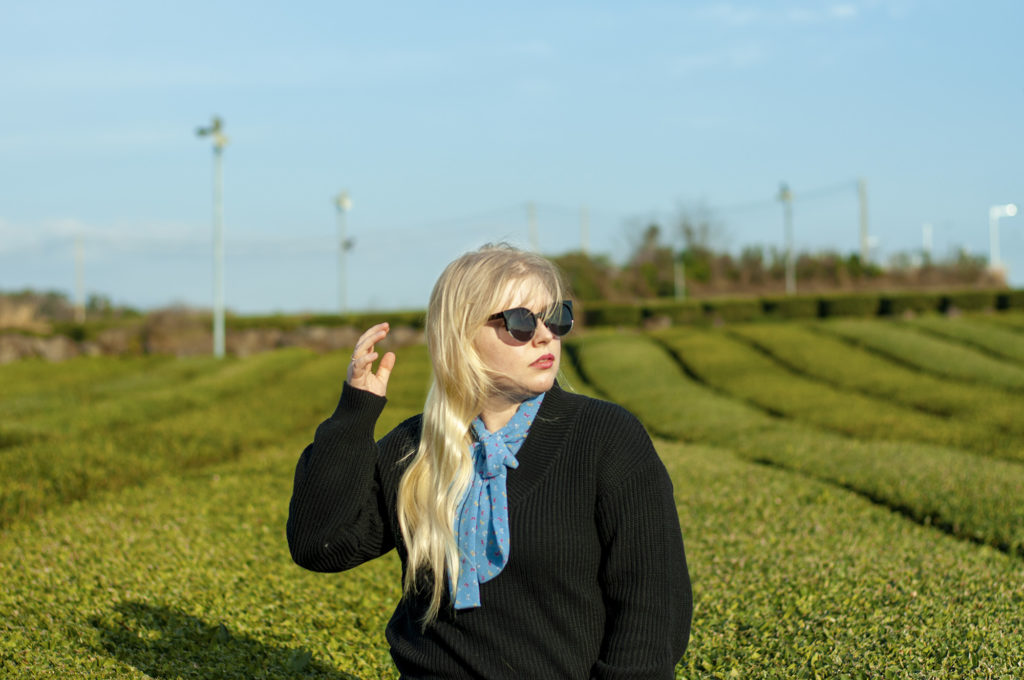 Green Tea Fields and Osulloc Tea Museum on Jeju Island in February
Osulloc is a famous Tea brand from Jeju Island. Since we visited Jeju Island in February I thought it wouldn't be that crowded at the Osulloc museum. But to my surprise, there were a lot of people. The cafe in the Tea museum was packed but the fields where you could walk around in were not.
We started with ordering a dessert set in the Osulloc cafe, luckily we got one before they were all sold out! If you are a green tea/matcha lover like me you have to try out Osulloc cafe. No worries, you don't have to visit Jeju to be able to try these, they have cafes in Seoul as well!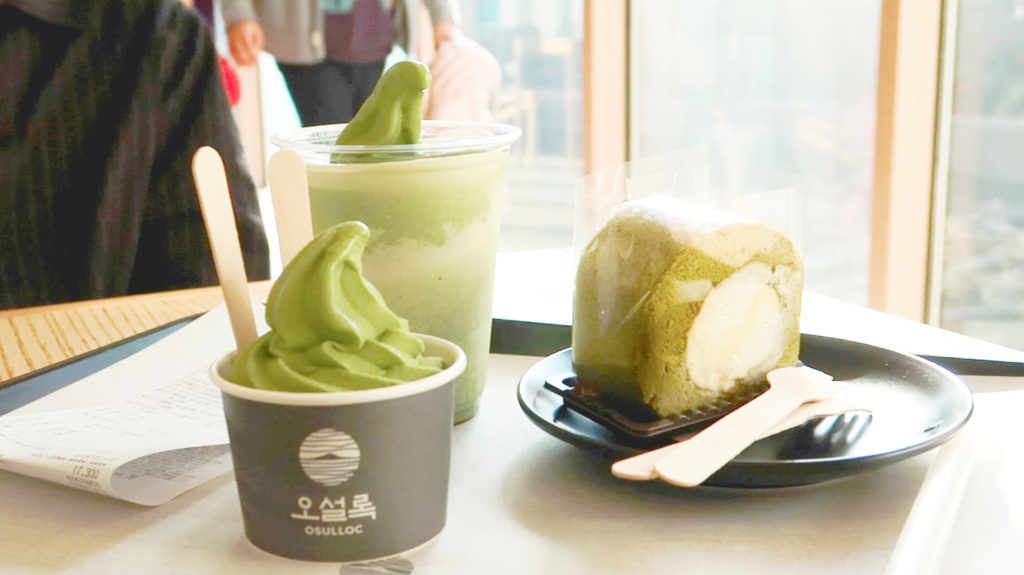 The green tea fields were cool to see, they weren't as green as I had imagined. But honestly, I just photoshopped them to look more beautiful in our photos.
Jeju Island in February Video for GO! GO! Hanguk
GO! GO! Hanguk offers free support for students looking for the opportunity to live and study in Korea. Whether it is for two weeks, a month, or even a year, they help students experience life in Korea and organize unique and memorable activities. Check them out at gogohanguk.com