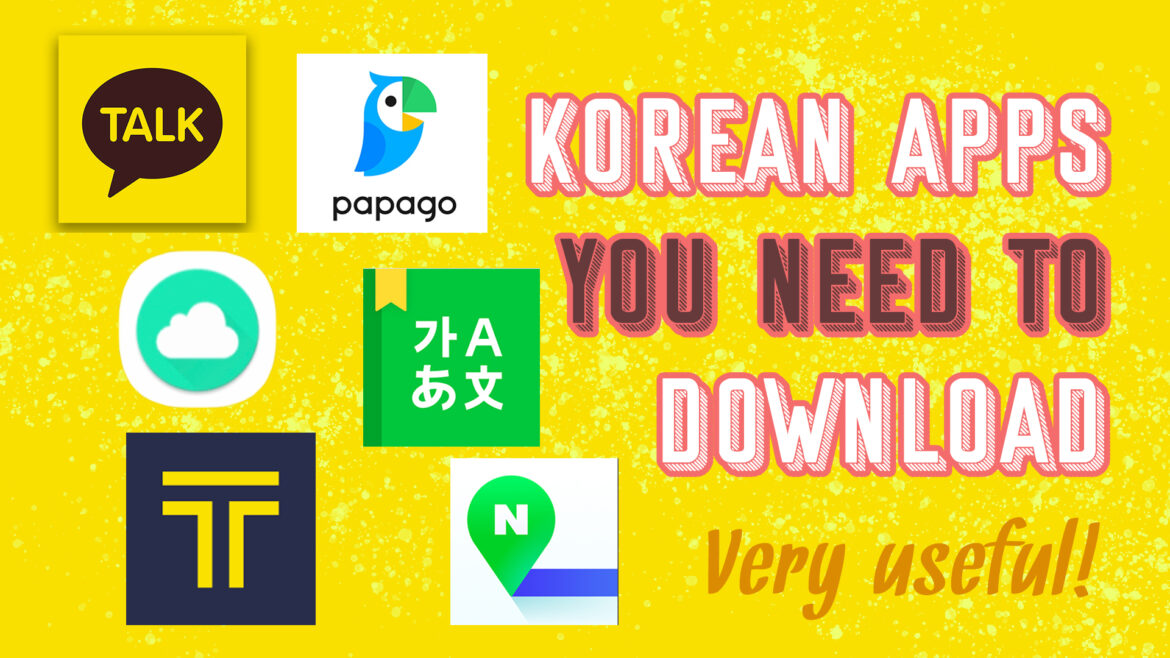 A list of Korean apps you need, I use these apps daily in Korea. This list will help you adapt to Korean society.
My habits have changed a lot by living in Korea! I put more effort into learning the latest trends especially when it comes to technology! So I would love to help you out if you are new to Korea.
Korean apps for communication!
Kakaotalk is a must-have in Korea. Everyone you meet here uses this app for all types of communication! Texting, calling, sending photos, buying & sending birthday gifts, and of course purchasing the latest cute emojis.

Best apps for Korean translation
I use 2 translation apps. If you can't read Korean Hangul yet I would suggest sticking to Papago.
Papago
This app is like google translate but seemingly more accurate. This is developed by Koreas go-to search engine, called Naver. You can use their image translate feature to take a picture of a sign or text and get an instant translation. If you do know how to read Korean and would like to check a dictionary with example sentences and synonyms download
Naver dictionary
This dictionary is the best. I use this all the time to translate from Korean to English and sometimes from English to Korean. I can understand the Korean word better by reading the examples provided under the word. It's a great study method!
Apps for Navigation
If you are in Seoul, you probably will mainly use the Subway and taxis for getting around so these two apps are a must.
Seoul Subway
There is an English and a Korean version, both apps work the same and are constantly updating the times. Easy to use, click on the station you are departing from and click on your desired arrival station. You will get all the detailed information.
Kakao T
This app will make getting a taxi much faster and easier! You can put your home address in there and your destination. You will get a Taxi driver on his way with all his information, the car number, Taxi driver's name, and fee, etc.
I moved from Seoul to a nearby city. So now I always take the bus everywhere. The best app that navigates me wherever I would like to go is
Naver map
If you can't yet read Korean Hangul, no worries Naver map provides almost all the station's names in English letters. This map is way more accurate compared to Google maps (don't rely on google maps in Korea!)
Korean Apps for entertainment
Here are my top favorite Korean apps for entertainment.
Naver Webtoon
If you are learning Korean and you are like me, someone who loves reading comics. You got to download Naver webtoon.
Webtoons originate from Korea. They are digital vertical comic strips. All genres and many different types of art styles are available. Authors usually update with an episode weekly and you can subscribe to your favorites. You can read them in English if you download the Webtoon app in English, but if you want to practice reading Korean make sure to download Naver webtoon in Korean (I have both apps).
Date pop
This app will be helpful for you if you like to know what kind of fun activities are available in different areas around Seoul. Simply click on the area on the Seoul map, let's say Hongdae for example. You will see all sorts of fun places. Just by scrolling down, I see candle making, fortune telling, special pretty restaurants and cafes, games like laser tag, board game cafe rooms, arcades, couple rings making, photo studios, and the list goes on!
Snow app
This is one of my favorite camera apps! This is like a Korean snapchat but with tons of more face filters and other functions that constantly get updated with new trendy stickers and face image filters. If you like Kpop and Kdrama you will love this! They offer cute image filters of popular idols and actors.

Korean apps you need – Food
There are so many apps related to food in Korea! So this should be a blog post on its own. But I'm just going to mention the ones I use mostly.
Yogiyo (요기요) for delivery food
It's fairly simple to use but you got to know how to read Korean. Simply make an account and put in your home address on your profile. Now you will be able to order chicken, pizza, Chinese, Japanese, and even traditional Korean food. You will need to know basic Korean to be able to click around and decide what menu you want, read the important information like the minimum delivery fees and hours of operation.
Mangoplate – find 맛집
This one is all in English. This is a food search & review app. It works really well in Seoul. I let the app know my location and I can filter my food search by distance (within 200m for example) and types of food (Korean food or dessert cafes). The best-reviewed ones, along with pretty pictures will pop up.

Check the air quality – MiseMise
Korea has periods where the air pollution or to be more specific, the fine dust (called Misemonji in Korean) in the air is very severe and can be very dangerous for our bodies. During these periods people go outside wearing face protection masks. Just how we check the weather we can check the air quality on our phones with this app. Type in 'MiseMise' to find and download the Korean app. Even if you don't know Korean you can tell by the smiley face and color when it is good and when it is bad.

I love providing helpful information on living in Korea. If you like this post maybe you will like this as well, T-money in phone case not working