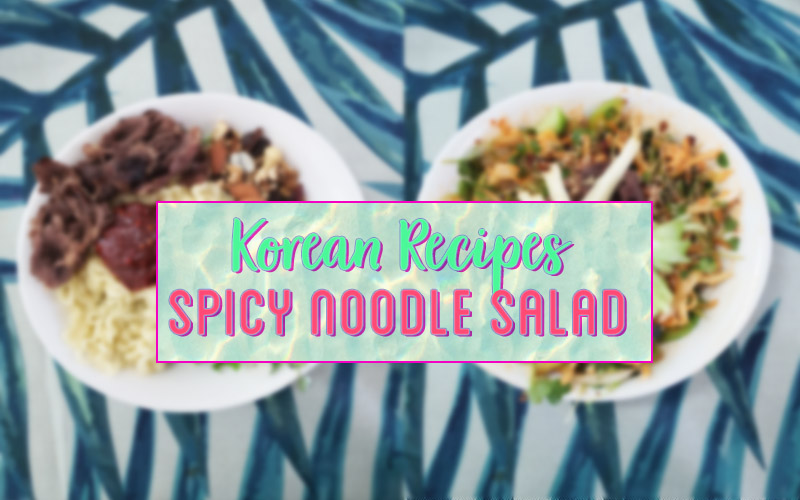 I absolutely love having a Korean salad for lunch! There are so many healthy Korean dishes I'm able to make while living here, I just wish I could discover everything and learn how to cook it all faster!
This is a really easy recipe I came up with while I was working from home and didn't have any desire nor time to cook a nice meal for myself. So I took what was available in my kitchen and whipped this up. It is similar to the Korean cold noodle dish called Jjolmyeon (쫄면), but with some different ingredients.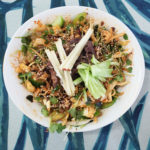 Print Recipe
Spicy Korean Salad with Cold Noodles
A quick Korean sweet and spicy salad filled with healthy and yummy flavors!
Ingredients
Sauce ingredients
1/2

tbsp

Gochugaru (고추가루)

Korean chili flakes

1

tbsp

Gochujang (고추장)

Korean chili paste

1

tsp

Sugar

1

tbsp

Vinegar

1/2

tbsp

Soy sauce

regular

1

tsp

Minced garlic

1/2

tbsp

Sesame seeds

1/2

tbsp

Sesame oil

Pinch of salt
Salad ingredients
Half an apple

sliced in long thin pieces 

1/2

Small sized cucumber

sliced in long thin pieces 

1/2

Onion 

chopped in long thin pieces 

1

cup

Chopped white cabbage

thinly

1

cup

mixed salad greens

I used asian "baby leaf lettuce"

1

pack

Cooked Instant Ramyeon noodles

or glass noodles

80

g

Mixed nuts and Raisins
Options:
Oyster bladed beef

or any other meat of your choice

2

boiled eggs

cut in half and thrown into your salad
Instructions
Start by making the sauce by adding all the sauce ingredients in a small bowl and mix it well.

Prepare all the vegtables. Chop the cucumber, apple, onion and cabbage thinly. Rinse your mixed salad greens.

Cook your instant noodles/egg noodles or glass noodles as intructed on the package. Don't add any flavoring. Strain the noodles and rinse with cold water.

Optional: Cook your beef or boil eggs

In a very large bowl mix everything together, including the sauce. Divide into 2 serving bowls and sprinkle some extra nuts, sesame seeds and sliced apple and cucumber on top for looks. (see picture)
How to Make a Spicy Korean salad
You don't have to follow this recipe religiously. Feel free to swap out vegetables, meats and etc. I encourage you to experiment! Salads are fun and easy! As long as you have a dressing or sauce prepared you can choose how much greens and meats you want to have in your bowl! This is just what I made and what I found delicious!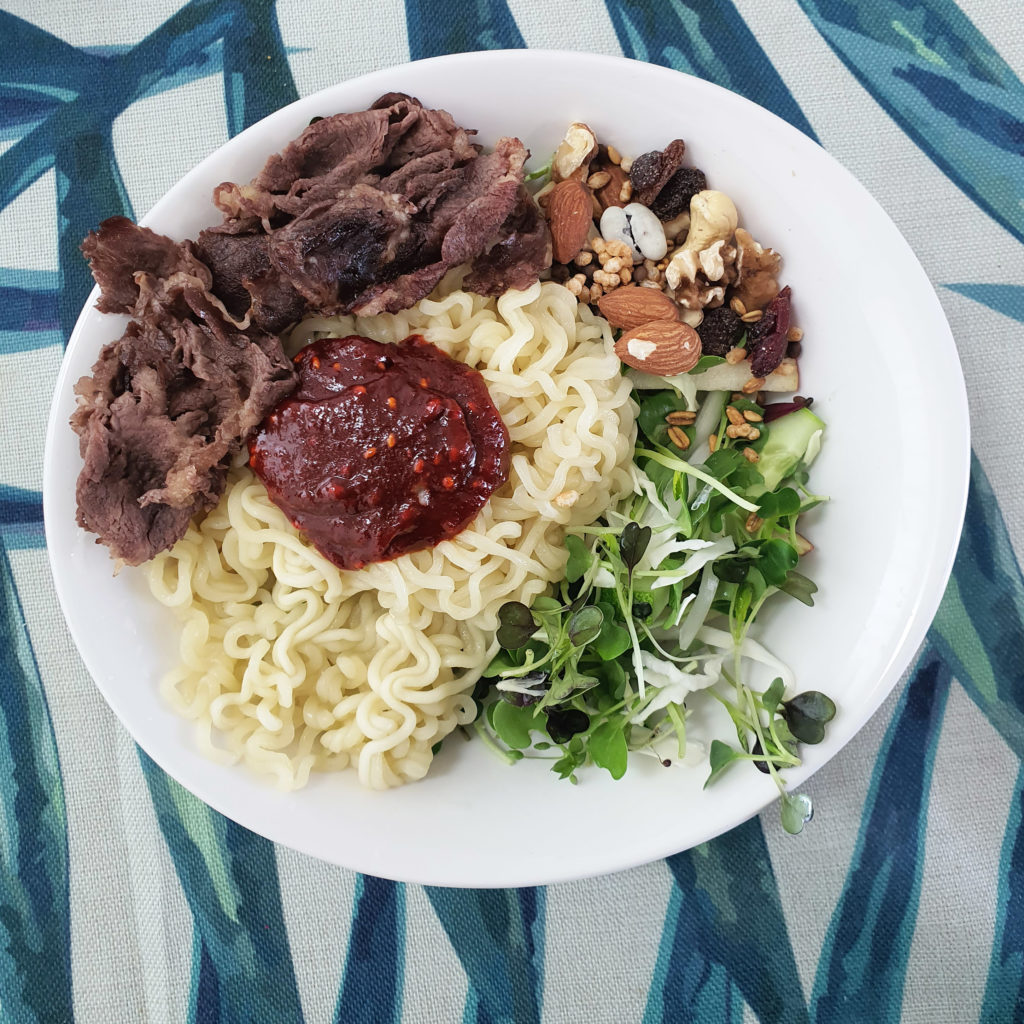 Sauce ingredients
1/2 tablespoon Gochugaru (고추가루) Korean chili flakes
1 tablespoon Gochujang (고추장) Korean chili paste
1 teaspoon sugar
1 tablespoon vinegar
1/2 tablespoon soy sauce
1 teaspoon minced garlic
1/2 tablespoon sesame seeds
1/2 tablespoon sesame oil
A pinch of salt
Korean Salad ingredients
1/2 Apple – sliced in long thin pieces 
1 cup of chopped white cabbage
1 cup of greens of your choice for the salad  
80g (handful) of nuts and raisins
1/2 chopped onion 
Oyster bladed beef or any other meat of your choice (other option: boiled eggs)
Cooked pack of Ramyeon noodles or glass noodles
Other options / Swaps:
1 cup of bean sprouts (boiled for 3~4 min)
1/2 carrot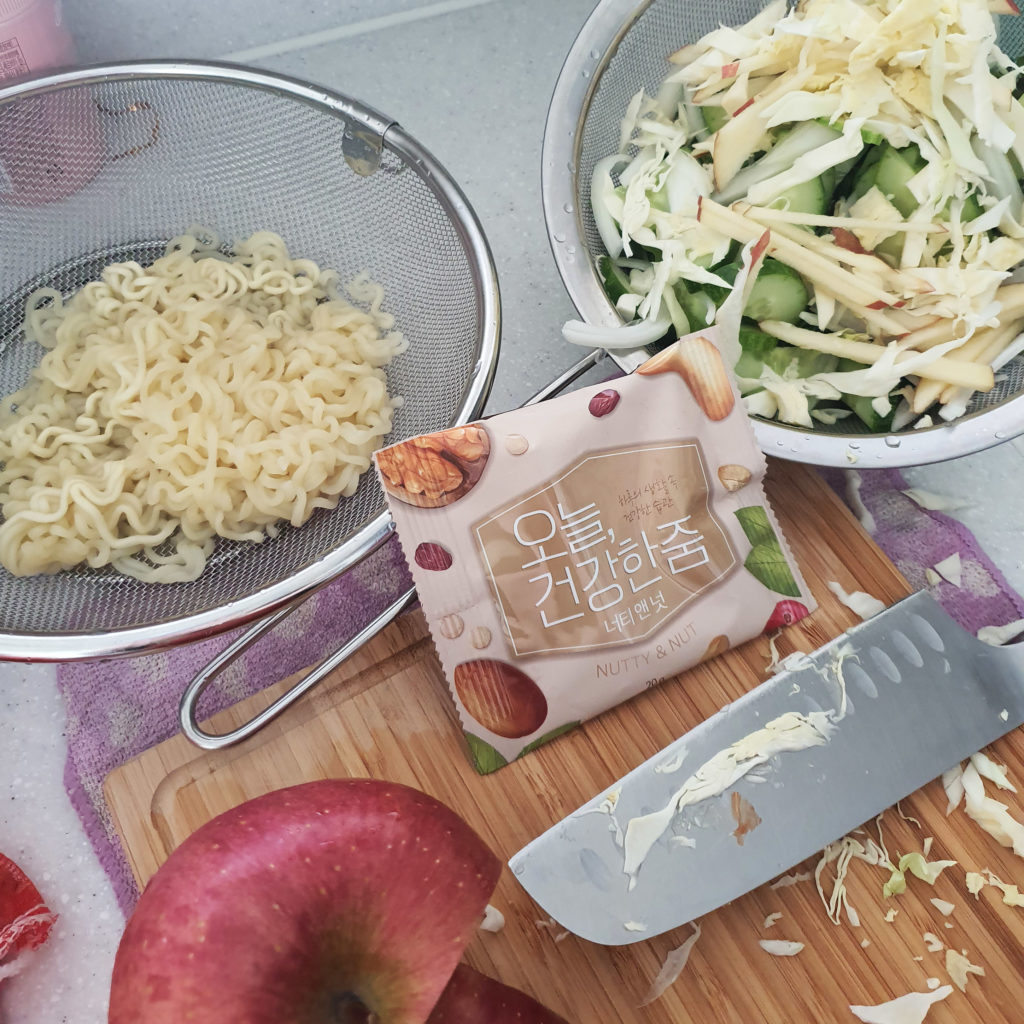 Instructions
I always start by making the sauce / dressing. Simply mix everything in no particular order and let it rest. Then continue chopping the vegetables. I'm no pro chef so I still have a long way to go to perfecting my chopping skills haha.
One salad for today and one for tomorrow?
You might want to save a serving for the next day! I divided everything in two because I planned to eat the other half for lunch the next day. So, in this case, don't mix everything in a large bowl. Save your time by storing half the salad in the fridge. Cook only half the noodles and store half of the sauce in the fridge as well for the next day. Then, you only need to cook the noodles and mix everything for a quick meal!
Serving two people
If you are making this for two then following the recipe above will do. After chopping all your vegetables, boil the noodles, cook the meat or boil two eggs. Finally, mix everything but the meat in the biggest bowl you got! Divide the salads into two fancy bowls and style the dish up for your Instagram! I put the meat on top and some extra thinly sliced apple and cucumber in order for some color contrast. I also sprinkled some extra sesame seeds for a more delicious appearance. Lastly, take a fabulous pic and Bon Appetit!